Click image for larger view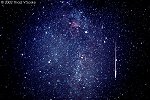 This image was featured as photo of the week on CNN's Space Chronicles Gallery, 8/14/2002 to 8/20/2002 and it appeared on SpaceWeather. It was also featured on the Utah Skies Weekly Report for 8/16/2002.

A 2002 Perseid passes a prominent star (Delta Cygnus) in the
constellation Cygnus as seen from west of Anza-Borrego State
Park, California, on 08/12/2002.